Welcome to PzG we are very glad to have you here...
---
PzG has a long history of offering quality Third Reich reproductions that are a good value for the money spent to hobbyist, collectors, historians, museums, re-enactors, theaters, libraries and all students interested in nazi Germany and Adolf Hitler history. Due to the sensitive nature of the era it is important to apply prudence, sensitivity, and respect in this good, albeit delicate, hobby.  
Hitler war stock is becoming harder and harder to obtain so, don't delay in making that purchase since tomorrow may be too late!
---

---
---
PzG ~ Hitler Busts, Soldier Statues, Party Eagles, WWII Wall Plaques
---
PzG ~ Calendars from the "Fatherland"
---
PzG ~ Military March, German Soldier Songs and WW2 Music
---
PzG ~ Silver-Plated Minted Medallions / Hitler Medal Display Collection
---
PzG ~ Adolf Hilter Films, WWII Movies, Leni Riefenstahl Documentaries
---
NAZI FLAGS ~ World War 2 German / Nazi Flags for Sale
AMERICAN FLAGS ~ Revolutionary War & Civil War Flags for Sale
---

PzG ~ Daggers, Swords, Edged Weapons
---
PzG ~ Nazi Reichsbank Gold Bar - Regalia
---
PzG ~ SS Honor rings, Wedding rings and Nazi Jewelry
---
PzG ~ Propaganda Posters of the Third Reich
---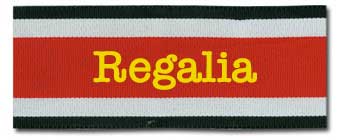 Afrikakorps (DAK) Das Heer (Army) Blue Max Combat Badge Daggers Gau Badges Gold Bars Hitler Youth Knights CrossKriegsmarine (Navy) Luftwaffe / Fallschirmjager Mothers Cross NSDAP Panzer
Paybook / Soldbuch SA / Paramilitary SS DivisionSS / Gestapo VW
---

Afrikakorps Airforce / Luftwaffe Army / Heer Navy / U-Boat Waffen SS Hats / Ball Caps
---
Armbands Belts / Buckles Collar Tabs Daggers Decals Dog Tags Firearms Helmets Patches
---
PzG Inc. ~ Where you are treated like family!
Don't forget to tell your friends about www.pzg.biz.
---
Don't miss out on these fascinating Adolf Hitler nazi historical WWII reproductions!
And, please don't forget to tell your friends about us at: (www.pzg.biz) PzG: Your Third Reich HQ!
Customer Comments:
**Received order today am satisfied with your quick service. - John


**I just received my two signs in the mail and they are great! The quality surpassed my expectations!


**I was well pleased with the design and quality of the shirt I received. History is history and facts are indeed facts. The men of the Waffen SS were the elite soldiers of the war-a fact now being (begrudgingly) accepted. They were the defenders of Western civilization. I always point out the large number of foreign volunteers who served, many winning the highest honour-the Ritterkreuz. Remy Shrijnen, the great Leon Degrelle and many others performed super human feats on the battlefield. The SS Panzergrenadiers were men with an unmatched esprit d' corps and a camaraderie betwixt officers and men unknown in other armies. I am proud to wear my SS garb and am happy to engage in meaningful conversation about it. Many if not most people do not know the facts of this era and what the intent of the Third Reich really was due to lies and propaganda. My intent is to rectify this insofar as I am able. Thank you, I'll be in touch soon. - Tom


**Thank you, for all who support free speech and free thought. I have always wanted to believe there were people out there that simply didn't just quit at propaganda and political correctness, that wanted to know the truth in its entirety. I know it must be difficult in the face of a people who's thought is simply media bias, but for asking the hard questions I really have nothing but gratitude. I've always wanted to know the truth and the whole truth and it's people like you who make it possible to know what times and places the course of human history brought new thoughts and ideas that we're all told to hate but never given a chance to understand. Thank you for having the honor to keep knowledge alive and holding strong to the virtue of free speech. As long as I can remember I've wanted to learn and what you give is that ability so keep fighting the good fight and know people out there believe too. - Dan
---
Thanks for your continued support of our family operation!
---


Dedicated to preserving Third Reich history 1935-1945 by offering for sale reproduction war stock to everyone interested in WW2 particularly Adolf Hitler and Nazi Germany.
THANK YOU!
WE APPRECIATE YOUR ORDER TODAY